TOP 4 "MIC DROPS" FROM THE 2019 BRIDGE CONFERENCE
I'm back in the office after an amazing trip to North Harbor, Maryland for the Bridge to Integrated Marketing & Fundraising Conference.
I'm fortunate to have been to a lot of fundraising conferences, but I've never known one that people talk about the way they talk about Bridge. It's got such a buzz and energy to it, and I couldn't wait to be part of it.
Let me tell you: It lived up to the hype. I've never gone to so many sessions with serious "mic drops" in terms of game-changing knowledge shares. Here are my top four:
Enough with the forms, people!
This mic drop came from my colleague Kimberley Blease, Blakely's friend Stephen George (Good Leaders), and our client Beckie Cairns (ACLU). They presented Planned Giving – The Incredible Change Agent You Have Been Waiting For.
They encouraged the audience to focus on Planned Giving in a different way, to question why one of our only measures of success is the number of completed forms donors sign?! We put so much energy into inspiring donors to consider leaving our organizations in their Will, and then kill the inspiration and the experience by asking donors to sign a form.
Let's think differently! *mic drop*
"Woke Capitalism" is here!
Bridge had some fantastic keynote presentations, and Bruce Mehlman's Navigating the Age of Disruption: How to Change a Changing World was no exception. He covered numerous trends at play in our world, from the political to the economical and beyond, but he really blew my mind when he said:
Woke capitalism is here. People are voting with their wallets.
And that's just as true for charities as corporations – buying and donating are an expression of politics and beliefs and values.
How are we tapping into that worldview in our work? *mic drop*
Try an embossed envelope
OK, arguably, this is not a mic drop, but as a direct marketer (and I was in good company at Bridge), I eat up innovative ideas in direct response – especially when they're ideas I haven't personally explored in direct mail.
At the quickfire Friday at 8:00 am session entitled 60 Ideas in 60 minutes, they shared a slide (see below) featuring an OE embossed with raindrops.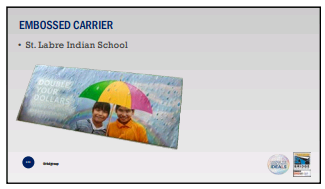 Although these kinds of OEs are on the pricier side, I LOVE the idea of a textured envelope for the right organization and the right campaign. It really adds to the beauty of direct mail; it's tactile. When we can surprise and delight a donor, we can inspire them to give. And, after all, getting the OE opened is half the battle, if not more than half!
*mic drop*
Experiential Marketing = Catalyst for Conversation
Last but not least, another session involving one of my colleagues: this time Amy Pawluk joined by Claire Lamont (Smak) and Ali Jones (Oxfam America) and their session Get Engaged and Seal the Deal in Your Relationship with Your Donors.
The session was all about experiential marketing and its value as part of your marketing mix. Experiential marketing is marketing a product or service through experiences that engage the customers and creative emotional attachment.
They referred to it as a "catalyst for conversation". It's a way to involve your donors in your mission in a way that engages all senses and inspires even deeper connection.
That sounds like a…*mic drop*
That's it, folks! I had an amazing time and left Bridge completely inspired and energized! I hope you can go yourself sometime, and you can be sure we'll share our learnings wherever we go!