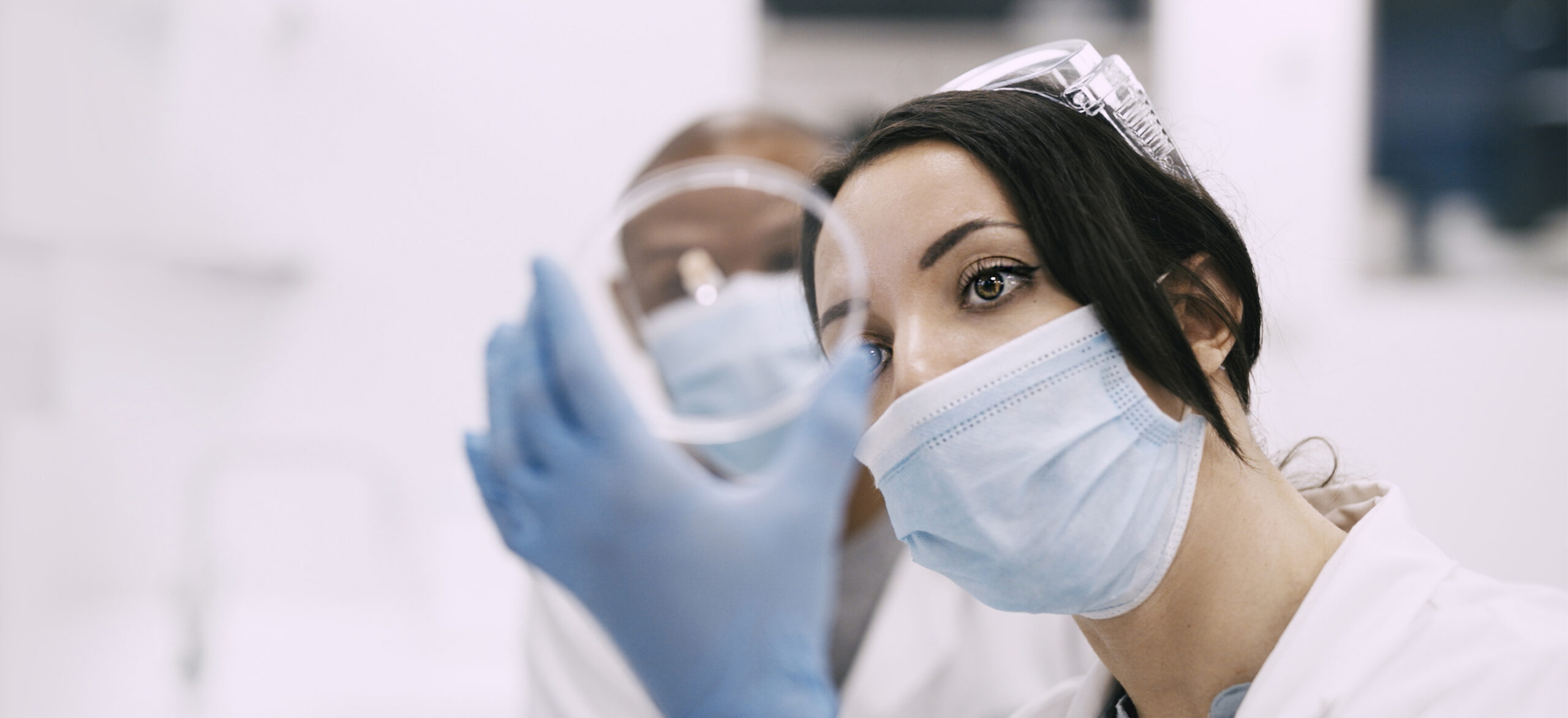 The Edge Fund

Case
Using Affinity Survey to inform Mid-Level Product Development
The challenge
Heart & Stroke's mid-level donors were an audience that had not been deeply invested in, resulting in an opportunity to increase insights and build propositions and offers to sit alongside the monthly Breakthrough Fund. The objective was to build an offer that would increase the value of mid-level donors and really inspire those who were giving at the upper tiers of the mid-level program. There was a perception that offering donors the opportunity to designate may be compelling, but this was going to be difficult to execute with internal resourcing, and so the team wanted to dig further into what might motivate this group of donors to give more while avoiding the need to offer a heart OR stroke-based product.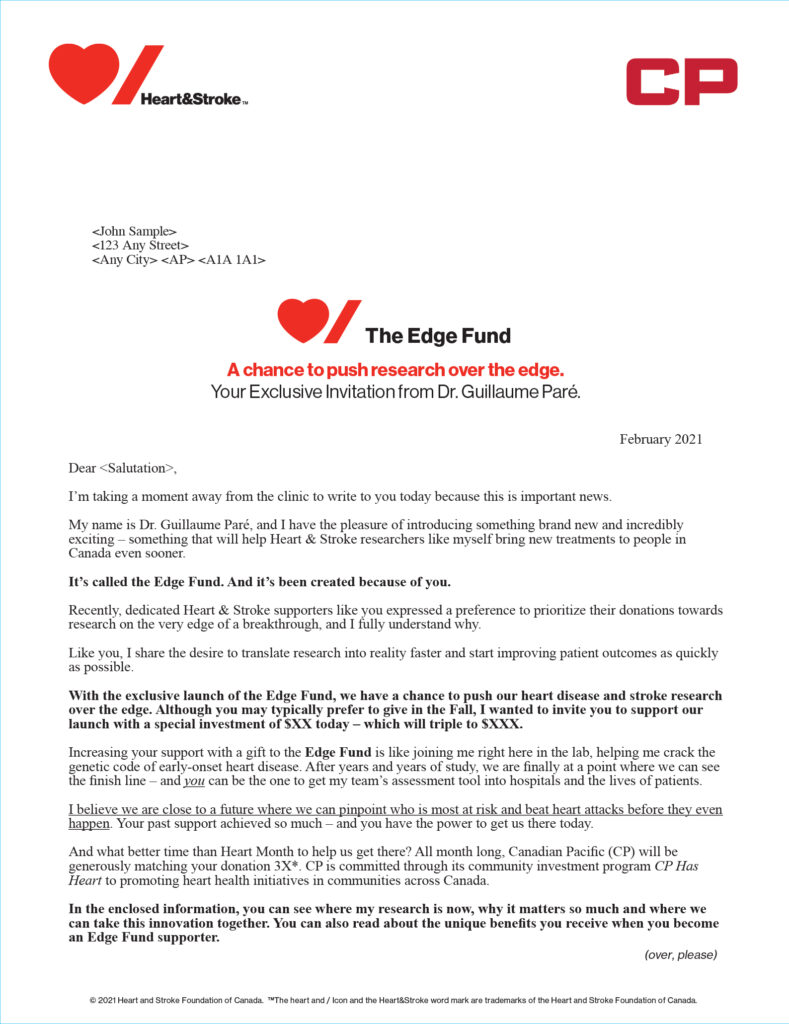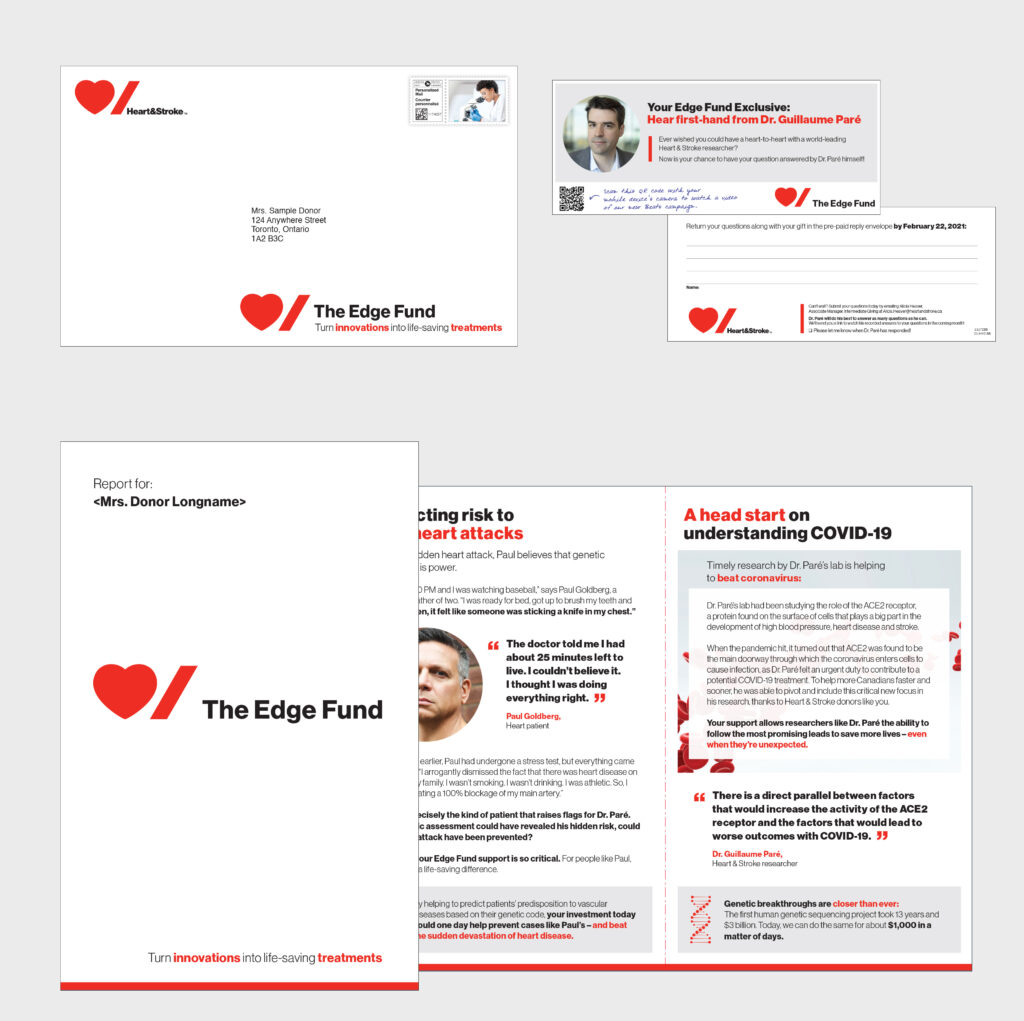 What we did
We undertook a product development Affinity Survey specifically for mid-level donors – this had a very clear objective to give direction to developing a proposition and offer for these donors.
The insights showed us that getting important research 'over the finishing line' to imminently improve treatments and 'close to breakthrough research' was the most inspiring area of work, giving a very clear direction for the offer. In addition, the problems causing short-term devastation for people affected by heart and stroke issues were more compelling than longer-term issues, so the proposition needed to focus on need, urgency, and research that was close to completion and maximize the 'getting to goal' theory over longer-term investment into research.
We also ascertained that a fund-style product was compelling, with specific features and benefits including insider information, first look at projects, and virtual lab tours.
The content that this group wanted and needed, needed to have a direct link where possible between research and tangible treatment outcomes and the feeling of being 'nearly there.' Information and value add pieces about informing of symptoms and lifestyle were also compelling to Heart and Stroke Foundation's mid-level donors.
After the survey, we had a clear idea about what the most engaged mid-level donors found relevant and inspiring.
The result
From the affinity research, we developed a new mid-level giving product – The Edge Fund – and created a strategic journey experience that was split-tested against the current offer and experience. We saw a small increase in overall revenue in the first year – an uplift of 3% from the pilot group – but importantly, we saw a bigger impact on higher-level donors.
Brand recognition of The Edge Fund tracked at 41% after just 12 months which is comparable to the monthly product brand awareness that had been in market for over seven years. We also saw another significant benefit. When we surveyed donors again, those that had been part of the pilot were much less interested in designating their gift. Only 23% of them compared to 45% the previous year. The Edge Fund is now being rolled out to the whole mid-level audience based on the insights and testing.